Mississippi stud is a simple casino game that was presented by Scientific Games but was invented by the CEO of Shuffle Master, Mark Yoseloff, in 2009.
In the first few years, this poker game had only one table, and it took a while to catch on. It was primarily played in Mississippi casinos. Today, Mississippi stud is spreading fast all over the U.S., and it even has tables in Las Vegas.
It is a 5-card table game with strategies that are somewhat easier to learn. That makes it attractive for beginners and younger players.
Like Caribbean stud, Three Card Poker and other table games with a poker base, Mississippi stud is a banked game. That means you are playing against the dealer and not the other participants at the table. It shares this similarity with video poker.
The Rules
Rules of Mississippi stud poker are easy to learn and are similar to Blackjack. That means that you will be sitting on one side of the table while the dealer will be on the other. In comparison to Blackjack, Mississippi stud has a lower house advantage.
At the beginning of the game, each participant needs to place an ante bet — your "buy-in" for the game. The dealer will then place five cards in the middle of the table facing down — two hole cards and three community cards, which are also known as shared cards. Then a player will be able to continue by raising the amount by one to three times their ante or forfeit their ante by folding. That is called a 3rd street bet.
Then the first shared card is turned over, and participants may make another raise or fold; also known as a 4th street bet. Then the dealer will turn the second shared card—5th street—which is the final round of betting. Participants get the payout after the dealer shows that last shared card.
Payouts
If you draw a royal flush, the payout will be 500:1. Drawing a straight flush brings you 100:1, four-of-a-kind 40:1, full house 10:1, flush 6:1, and straight 4:1. Drawing three-of-a-kind will have a 3:1 payout, two pairs 2:1, a pair of Jacks or better 1:1, and a pair of 6s to 10s — a push. The maximum accumulated payout is 50,000 dollars.
Playing Strategies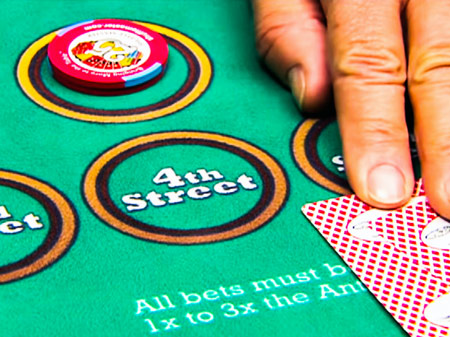 Before the dealer turns the shared cards, the best strategy for the player with any pair is to raise 3x ante bet. If you have any of the high cards, you should make a modest raise.
What's more, if a player has two medium cards, which means any card from 6 to 10, a small bet is preferable. That is also the case if a player has cards like 5 and 6. Conversely, if the player doesn't have any of these cards, he should fold.
Mississippi Stud vs. Other Poker Games
Unlike Texas Hold'em and Omaha, in Mississippi stud, players don't have opponents. However, it shares some similarities with the other games like 7 Card Stud, and Let it Ride, as well as the already mentioned Texas Hold'em.
If you look at the strategy and the rules, it is almost identical to Let it Ride. Both of these games expect you to make three decisions involving shared cards. If you compare it to 7 Card Stud, you will see Mississippi has, in fact, five streets.
Mississippi Stud Compared to Texas Hold'em
Like in Texas Holdem, in Mississippi Stud you will receive two cards. It is also played on a small table with an average of 3 to 5 participants. In addition, the cash game is similar to Texas Hold'em in terms of payouts and when these are made. There are also some differences regarding that as well. Hold'em payouts depend on the size of the pot, which in most cases doesn't amount to much.
Mississippi stud, however, offers a broad range of payouts, including huge prizes for the player that has the best hand. In fact, you could win payouts worth 40x to 500x your original bet.
To sum it up, if you are planning to test your luck in casino table games. Mississippi stud poker might be the right choice. This is a simple game that unfolds in five betting rounds. Its strategies are easy to figure out, and it brings great prizes.